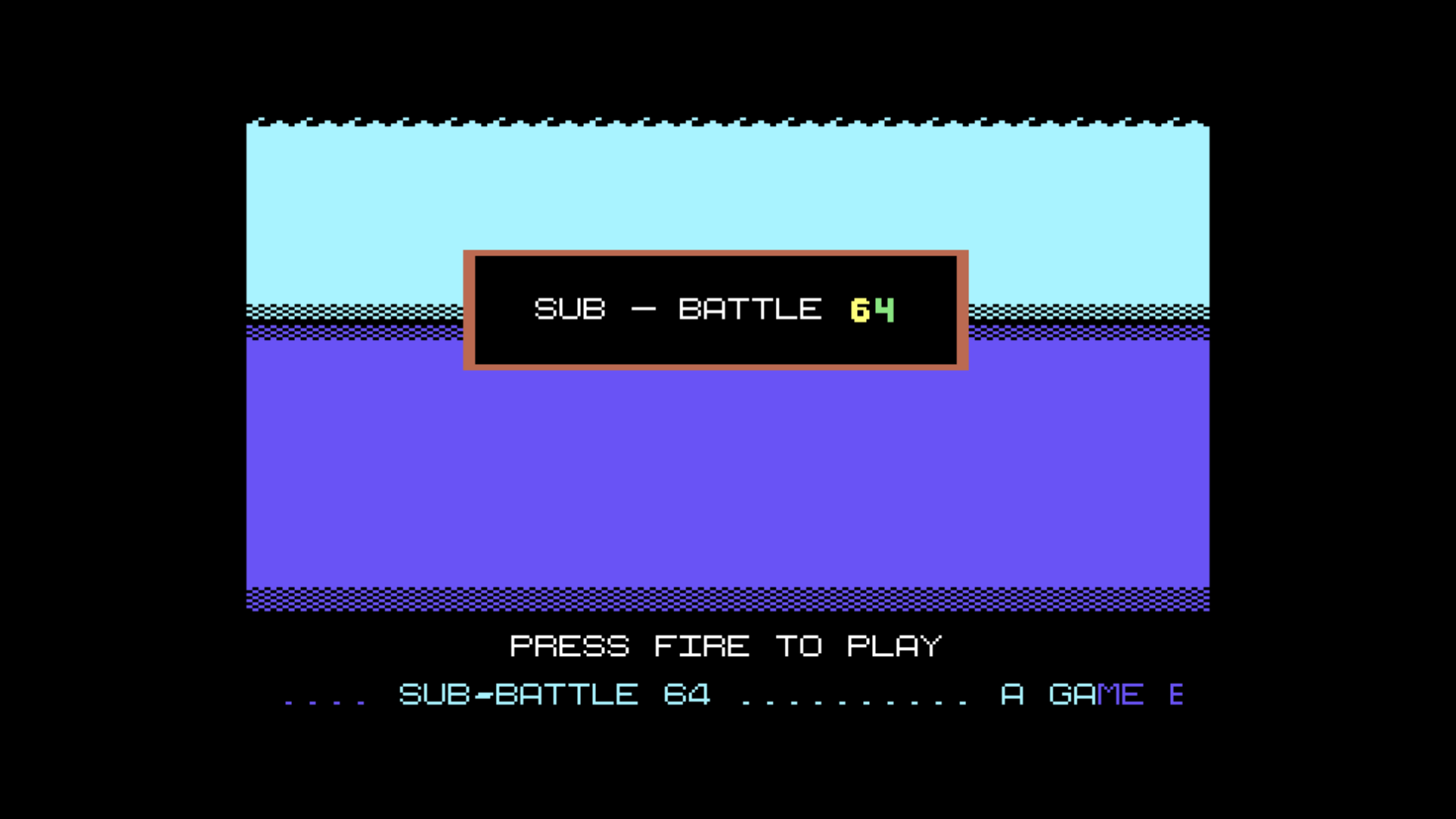 SUB-BATTLE 64
1 Player Game for the C64 based on an Old Arcade Game.
Welcome to SUB-BATTLE 64, Move left-right and shoot the other Subs and Boats, Hi-Score Game no ending, You move Slow and you shoot 1 slow bullet at a time, Just like it was in the early 80's.
Game was made in 2020 but never got released, it was going to be a Cartridge Game with around 5 or 6 more 80's style Arcade Games, So as my total Downloads for all my Games here on Itch has reached 7000+ i cleaned it up, re-did some sprites, added a title screen, etc and have released it to you all.
Have Fun.
YT Video was made by

VIPER's Retrogame videos
So go watch more Videos and give them a Subscribe.

Made with help from the Shoot 'Em' Up Construction Kit by Sensible Software and Using a modified SEUCK Enhancement Framework Code, Original Framework code by Richard Bayliss of TND, Title Music also by Richard Bayliss.

Install instructions
1 Zip File with a D64 and a PRG File.
D64 has Saving of Hi-Scores and works on SD2IEC, TheC64Maxi/Mini and C64 Emulators.
PRG Has Saving of Hi-Score REMOVED and works on SD2IEC, TheC64Maxi/Mini, Kung Fu Flash, And C64 Emulators.

Comments
Log in with itch.io to leave a comment.
This is the kind of good games that starts so easy and then becomes so hard and challenging. Congrats !
Thanks for linking my video and channel!
I know you can't see the life bar here. I deliberately sacrificed it by the vertical crop setting on MiSTer FPGA to see the game larger in the video.
Nice to see you're still making games!!
Thank you for doing a Video, Just finishing off some Games i started last year (2020), and have sat on my hard drive.