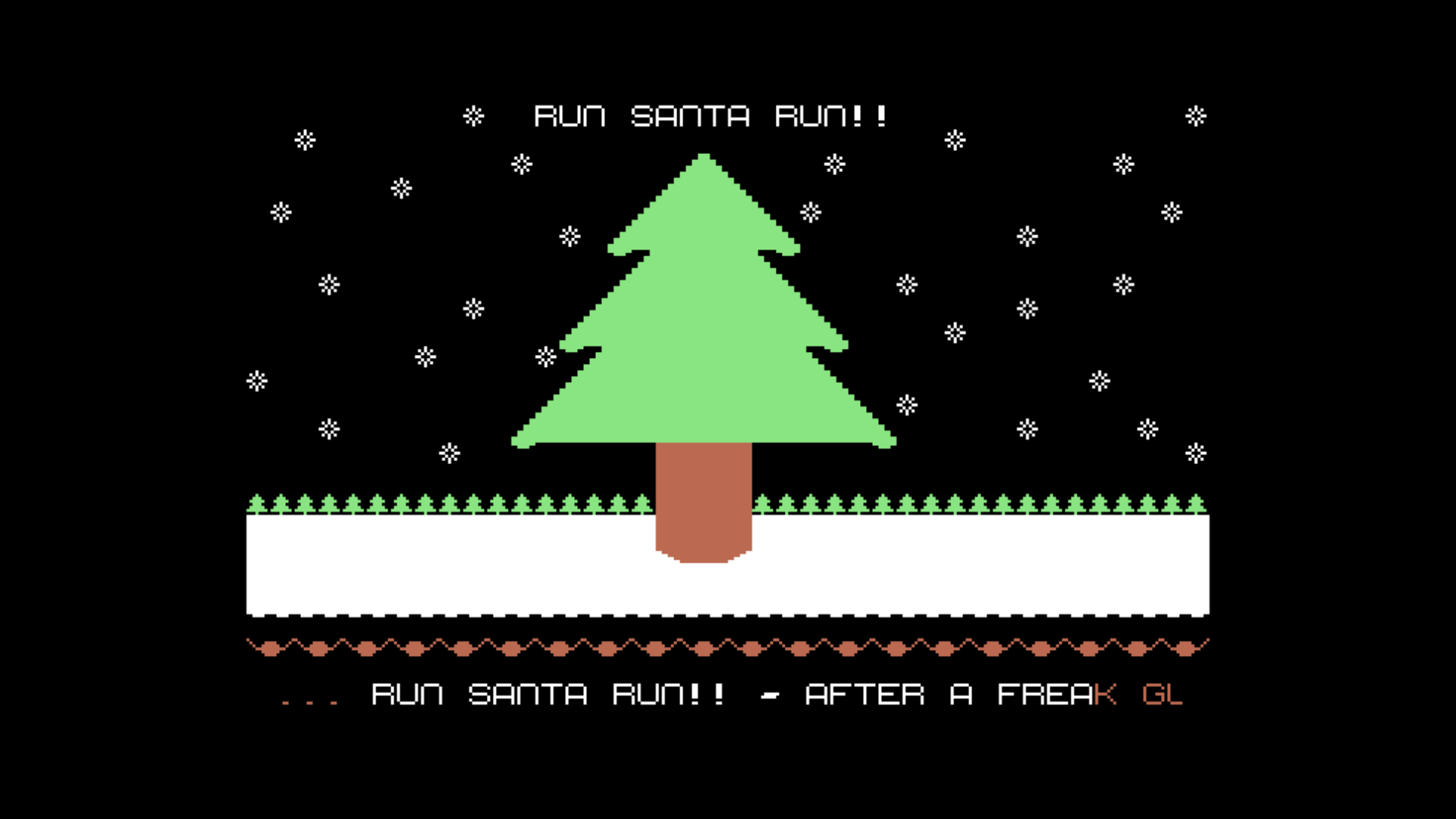 Run Santa Run!! C64.
Short Game made for Christmas for TheC64Maxi/Mini/Real C64 or Emulator.

Due to the placing of the Life Bar this Game is PAL only, NTSC will NOT SEE the Life Bar.

Based off of Halloweenie, This time you are Santa and must collect all the Presents while avoiding/dodging everything else, This is a lot easier Game as you now have a 7 hit life bar, Should be good for Kids to Play but still might be a bit hard for them, Read the Scroll Text on the Title Screen for story, Info, and Credits.
Have Fun.

Disclaimer: I am not held responsible for you Rage Quitting and Smashing Your C64/TheC64Maxi/Mini/Whatever you use an Emulator on/Keyboard/Joystick or anything around you;)

You Tube Video by
VIPER's Retrogame videos
So go watch more Videos and give them a Subscribe.

Made with help from the Shoot 'Em' Up Construction Kit by Sensible Software and Sideway Hacked Version by Jon Wells, Modified SEUCK framework Code by Me, Original Framework Code and Music by Richard Bayliss of TND.
Install instructions
1 Zip File with a D64 and a PRG file.
PRG should work on anything, like SD2IEC, TheC64Maxi/Mini, Kung Fu Flash, C64 Emulator.
D64 works with SD2IEC, TheC64Maxi/Mini, C64 Emulator.

Comments
Log in with itch.io to leave a comment.
Nice game for the last Christmas !
Fantastic Game! Awesome Music! Great Work! I love My C=64!
Nice little SEUCK game and Richard's "Jingle Bells" sounds just great! You will immediately get in a Christmas mood.
Thank you, and i've used your Video with Credit and Link, Hope thats okay.