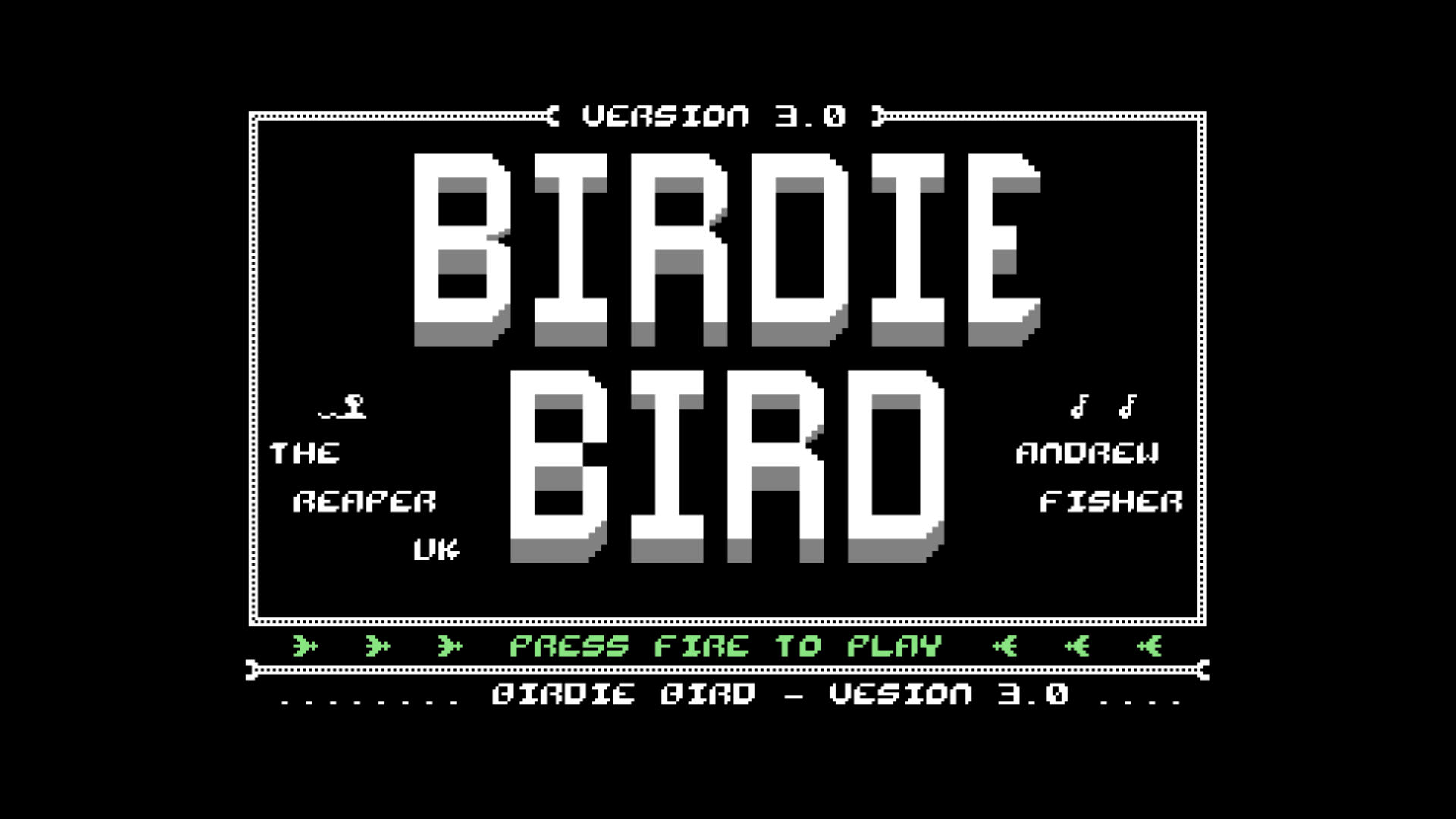 Birdie Bird GB Style (C64)
UPDATE: D64 and CRT Image updated to V3.2, Small Fixe's, Game now has an End Screen rather than the Game Looping, D64 Image Load/Saves the Hi-Score, CRT Image does not Load/Save Hi-Scores.

UPDATE: D64 Disk Version only with Load/Save of Hi-Scores, Thanks to Richard Bayliss for updating his Framework to V4.0 i was able to take the Hi-Score Load/Save Code and import it into my modified framework code, Also Updated to my Dragon Soul Framework Code so now has Power Ups of Weapons (4 Types) and Lives, Smoother Scrolling, Animated Water, Title/In-Game Music by Andrew Fisher, Sprite Tweaks and More.

A Game for TheC64Maxi/C64Mini/Commodore 64 or a Good C64 Emulator.
1 Player Game, Easy Game.
YouTube Video by "C64 Masters"
Check out more videos at this link.

https://www.youtube.com/channel/UCnz5kSEkkZ9ipIfQRk3JB0Q/featured
Made with help from the Shoot 'Em' Up Construction Kit by Sensible Software and Using my modified SEUCK Enhancement Framework Code, Original Framework code by Richard Bayliss of TND, Music by Andrew Fisher (Merman).
Install instructions
Download "Birdie-Bird-v3.2D64.zip" for TheC64Maxi/Mini, C64 Emulator, Or SD2IEC for Real C64.
Download "Birdie-BirdV3.2CRT.zip" for THEC64Maxi/Mini, C64 Emulator, Or Kung Fu Flash for Real C64.

Comments
Log in with itch.io to leave a comment.
Nice grey scale graphics. Very cute game also. Excellent retro game design. Sounds suit the game well also. Especially the bird's cheep, cheep sfx :)